Eating is like breathing; we've been doing it since the day we were born. Yet for such a common activity, the knowledge of how to eat well has become strangely complicated. Ryan Pierson, director of the Good Food Collective and member of the Headwater Food Hub leadership team, is deeply familiar with the tangled issues plaguing our modern food system.
"In chasing dollars and abstract ideas of nutrition that ultimately benefit a few types of food businesses and large-scale producers, we have forgotten what food is and how to access it," Pierson says. "Food is one thing that touches so many people: environmentally, socially, as well as their economic and health standpoints."
According to Pierson, $500 million per year is spent on food. Less than 2 percent of that is spent on local goods even though we live in a soil-rich region with an agricultural history and tradition.
"How do we create a food system that pushes the needle to 10 percent as the baseline thus putting $50 million back to the farmers?" Pierson asks. "Imagine the economic impact if we moved that needle to 40 percent."
For such a complex issue, the solution, paradoxically, is so simple it sounds absurd; eat locally grown and minimally processed foods. Making these foods accessible is what Headwater Food Hub is all about.
Food chain
Headwater Food Hub is a wholesale food distributor based in Wayne County, New York, that connects regional farmers and food producers with both private and commercial consumers. To do so, it manages supply chain logistics, aggregation, distribution, and sales for a farm network concentrated in Wayne County, Rochester and the Finger Lakes region but stretches statewide with a few in Pennsylvania, New Jersey and Vermont.
Headwater describes itself as a socially and environmentally responsible, top-quality food distribution company. Its business model is a little different than industry standards. For starters, all efforts are aligned with community and regional needs.
In one example, Headwater Food Hub organized the supply chain from local farmers to sell produce to Wayne County school districts. All the produce goes to Headwater, which repacks the food for distribution — taking bulk quantities from farmers and creating pack specs for different size wholesale customers, as well storing items long-term (e.g. potatoes, carrots, garlic) to distribute during the winter months. Another example is how Headwater purchases cabbage, carrots and daikon from multiple farmers then sends the produce to a processer that makes slaw or kimchee for Headwater to sell later.
"We feel it's important to move the local food movement beyond the boutique, seasonal mentality," Pierson says. "We're building a good food system and connecting people to local foods."
Headwater's service makes it possible for larger organizations such as restaurants, schools, institutions and grocery stores to purchase from local farmers. Delivering ready-to-eat crops to multiple sites is not something farmers are equipped to do. Headwater bridges that gap.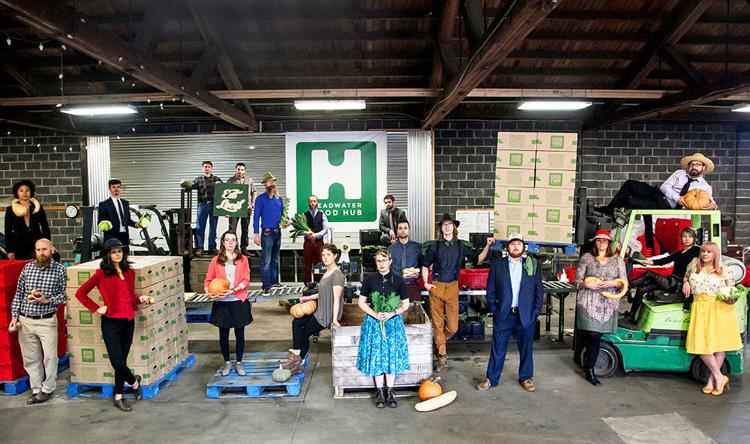 The Good Food Collective
It's not just large organizations that benefit from Headwater's connection to regional farmers. The Good Food Collective (GFC) is Headwater's project to distribute to individual consumers.
There are two ways individuals can purchase local foods from the GFC. For starters, you can purchase a weekly, bi-weekly or even monthly standard or small share consisting of a mix of fruits and vegetables or just fruits. There are also shares of mushrooms; cheeses; yogurt; veggie burgers; pasture-raised eggs; fresh organic breads; and humanely raised, Animal Welfare Approved chicken, pork and grass-fed beef that is free from hormones and antibiotics. All the products are top quality and made from local ingredients. There is even a coffee share. It's true that the coffee beans are not grown locally, but fair-trade beans are purchased and roasted locally. These are the beans GFC provides.
If you aren't ready to commit to a subscription share, you can shop from the online market posted on the Good Food Collective website, GoodFoodCollective.com. Here you can purchase a variety of goods for a single delivery. Dried beans, fermented goods, pasta and maple syrup are a few of the delicious, locally sourced foods that are available.
The GFC has distribution sites across the greater Rochester area. Additionally, many businesses have become distribution sites for their employees.
Delicious benefits
Benefits to both consumers and farmers provided by Headwater are significant. Having an outlet for their A-grade and processing-grade produce gives farmers year-round income, which is especially critical during lean winter months when they are purchasing seeds and planning crops for the next year. The reliable income allows farmers to keep their employees all year and makes crop planning easier. Consumers learn more about their local farmers, get excited about what is raised and produced and become more invested in their food choices.
"The environmental impact of our food system is horrific," Pierson says. "Eating local is healthier for you, the economy and your environment."
Simplicity never tasted so good.
This article was originally published in Community Health magazine for WPV.