It's an encouraging sign of the right kind of progress when a community rallies health and wellness enthusiasm for its families and children.
On November 2, 2017, the Gates Chili Central School District hosted its second annual Family Wellness Fair. Not only were there more vendors — 54 in total — but attendance nearly doubled since last time. In 2016 there were about 100 attendees. In 2017, 190 people, or 93 families, came to the fair to improve their health and connect to the Gates Chili network of service providers.
Fair fundamentals
The Family Wellness Fair was originally conceived to bring Gates Chili families together to learn about the services, organizations and agencies available in the community.
"We want to help our families expand their horizons and awareness of what is available to them regarding health and wellness," says Annette Schiano, coordinator of staff development and program support.
Participating organizations are called vendors, but there was no selling taking place. Emphasis was on sharing information and education. Vendors covered a wide array of specialties, services and offerings: youth sports, pediatricians, dentists, orthodontists, emergency response services, libraries, recreation departments and others. Representatives within the district also made a showing, such as the security team, continuing education and athletics programs.
This year, fair organizers placed an increased focus on drug awareness and mental health. Most vendors represent businesses and services within the towns of Gates and Chili.
"We reached out to the larger community to show families how to access valuable resources at the county-wide or even national level," Schiano says. "For drug awareness and mental health, we had more vendors than last year."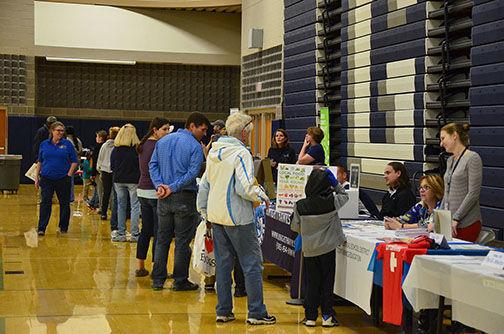 Strategic move
Nearly doubling the attendance for a health and wellness event in such a short time is an impressive accomplishment. Schiano credits the flu clinic, which was held the same evening. The clinic got more people in the door, some of whom had no know idea a health fair was happening.
In addition to the flu clinic, the district held its annual coat distribution on the same evening.
"We collect coats all year long," Schiano says. "At the distribution, our families can come in and just take coats. It was awesome."
Fun time, family time
In addition to collecting information about services, there were loads of fun, engaging activities. Martial arts demonstrations wowed attendees, while the recreation departments provided arts and crafts. Peer Leaders, a group of high school students, also organized craft activities for the younger students. Attendees loved hanging out with the four "Tail-Wagging Tutors" from Therapy Dogs International. These therapy dogs help reading-reluctant students in the classroom.
As it was for the first annual Family Wellness Fair, the Monroe County Office of Traffic Safety's interactive "Safety Town" was a big hit. New for 2017 was a DJ who volunteered his time and selected a great mix of music, which made for an energetic environment.
"We had some impromptu dancing cheerleaders," Schiano says.
Schiano reports that the Center for Missing and Exploited Children counted 42 children who registered their fingerprints as a preventative safety measure.
When families worked up an appetite, Gates Chili School Nutrition served complimentary sandwich wraps and yogurt.
Spreading the word
Schiano says that increased attendance may also be attributed to the district's increased marketing efforts. Volunteer Coordinator Paula LaManna set up a Facebook page. Email blasts were sent out, and elementary students were sent home with fliers. Participating dentists and doctors talked about the Wellness Fair with their patients. The school's electronic marquee announced the event in lights so anyone driving down Buffalo Road could see it.
Then there was the flu clinic. Everyone in the district received a family flu clinic flier, which brought people in the door even if they somehow missed the Wellness Fair announcements.
"It was a great evening," Schiano says. "People came, got their flu shot, sampled healthy food, met with vendors and shared time with their family."