In the summer of 2017, Christine Hoffman temporarily lost sight in one of her eyes and was admitted as a patient at the University of Rochester's Flaum Eye Institute.
Though initially terrified at the idea of surgery, Hoffman's time at the medical center was very comforting. The surgical team kept her at ease both pre- and post-surgery, and as they had expected, her vision was completely restored.
This June 27, Ontario County will host a Lunch 'n' Learn on vision health. Hoffman, a paralegal specialist with the Ontario County Attorney's Office and one of the county's wellness champions, was inspired by what she says was an exceptional experience at the medical center to highlight the vision health program.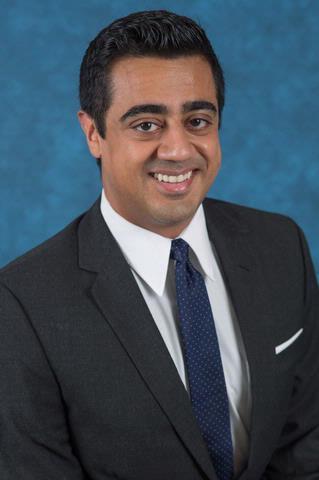 Dr. Anand Rajani of the Flaum Eye Institute will give a presentation about general eye care — how to take care of your vision, spotting symptoms of vision degradation and what you can do to improve poor vision. Rajani, D.O., M.S., will discuss a wide range of eye afflictions including cataracts, glaucoma and diabetes.
As a comprehensive ophthalmologist, Rajani works with patients of varying conditions. Keeping the variable age and health conditions of the audience in mind, the presentation aims to educate people on what they can do at different stages of eye health.
Rajani emphasizes the importance of getting regular eye exams that may detect symptoms of disease such as glaucoma or diabetes — symptoms that may not be detectable by the afflicted individual. Damage to blood vessels is most noticeable in the eyes, so early detection of damage is a key influence in the success of treatment.
Some people may already have cataracts or extensive damage due to glaucoma or diabetes, so Rajani will use that portion of his presentation to discuss the surgical options.
Rajani practices comprehensive ophthalmology and works as an assistant professor at University of Rochester Medical Center. Most of Rajani's work is clinical, seeing patients at the main campus as well as satellite locations, but he also oversees a resident clinic at the university.
He is also a skilled cataract surgeon. Cataract surgery is a common procedure, but to most people the word "surgery" is still daunting, Rajani says. In order for the operation to be a success, he believes it is important for patients to be in the right mindset.
"We as ophthalmologists are operating on these peoples' eyes, and vision is very precious to everybody and we understand that," Rajani says. "So it's very important to have patients comfortable with us and comfortable with the process so that there's no surprises for them and they can be relaxed for the procedure."
Rajani pins a lot of the medical center's success on the resources available at the institute. Thanks to a wide-range of specialists at hand, the University of Rochester is among the top institutes in the region for ongoing research in ophthalmology.
"We're always on the cutting edge of the newest technology here," Rajani says.
When all is said and done, Rajani's keys to successfully taking care of your eyes are fairly straightforward: Keep a clean bill of health, eat well, keep your blood sugar in check (in the case of diabetics), stay on top of any medical problems and get routine eye exams.
"It's important for everyone to take care of their eyes," Rajani says.