One morning in October, Matt Pawk, special education coordinator at Armstrong Junior Senior High School, bought a cup of coffee.
 "I ordered just a regular black coffee," he says. "It wasn't very interesting."
 What was interesting, however, is where and when that cup of coffee was purchased.
It was purchased on the first day of business for Hawks Nest Coffee Shop. Located in the main lobby of the Armstrong Junior Senior High School, not far from the entrances of the cafeteria, gym and auditorium, the shop is in the middle of a nice, high-traffic area.
he shop is run by high school students with special needs and offers hot and iced coffee, as well as healthy snacks. But it's more than that to the students running the shop. It offers on-the-job training they might not get anywhere else.
"Our whole goal is to get them employment opportunities and job-embedded skills and instruction," Pawk says. "We want them to be ready for employment opportunities that can come up with the community. These are resume-building activities. It's a chance for them to get work experience even before they graduate.
"We're a rural community, and finding jobs in the area is very difficult at times. This gives us an opportunity for our students to work on those skills in-house and under our own roof."
The first day of operation took several weeks of preparation.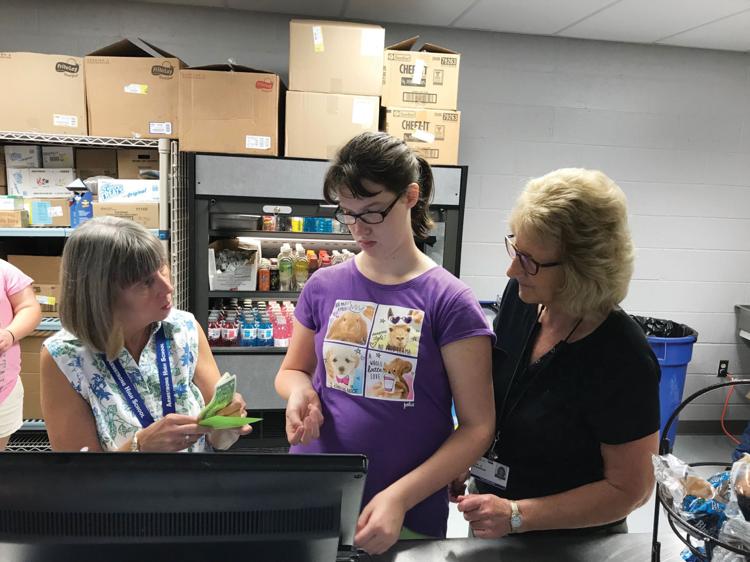 "Because of the preparation that we did, everyone knew what their roles were," Pawk says. "We had greeters sitting at the front of the shop and talking to people as they come up. We had students in the back making the coffee cappuccino and the tea. We had students working the cash register. We had a cleanup crew.
"It seems to work, and the first day went well. And some of these student will eventually change stations and learn a different phase of the operation."
Life skills teachers Kevan Landstrom and Melissa Bowser and Transition Coordinator Todd Strobel joined forces with Pawk to get the project rolling.
"We started brainstorming this with about two months left in the last school year," Pawk says. "As a team with our life skills teachers, were able to start it up and the special-needs students and their parents have really embraced it. All the feedback that we have gotten at this point from our students and the families that we serve in the district has been extremely positive.
"They are thankful for the opportunity. The kids have been enjoying it and they feel a sense of responsibility. It's not just learning in a classroom, now. It's learning in a real environment. They are applying skills that their instructors are teaching in the classroom and then going out and actually doing it. I think all of us who have worked in any field realize by now that the most valuable experience you can have is the internships and working with somebody who is actually doing the job. That's where we really learn what we do."
The school has 1,600 students and 16 take advantage of the coffee shop and another new project — an independent living lab.
The lab teaches students with special needs more about cooking, cleaning, making beds, washing clothes and other skills needed to live on their own.
Pawk says that a grant of more than $5,000 from the Armstrong Community Foundation and equipment donations from Barker's Appliance have helped the lab out immensely. Pawk is grateful that the students and the district administration are mindful of helping those with special needs.
"It's a very inclusive school," Pawk says. "We have a lot of support from our administration and teachers. Kids feel welcome regardless of disability category. Everybody really takes care of one another and are supportive of our special-needs program."