After spending roughly nine months together, sometimes teachers and students are ready for a break from one other.
In East Rochester Union Free School District, June through August is not about teachers and students. It's about adults and kids working together, learning and having some fun.
Pre-kindergarten through fifth-grade Dean of Students Jared Snyder and longtime teacher and coach Ed Mandara have tag-teamed for seven years of running the "Fun in the Sun" program. The nine-week camp, open to students within and outside the district, focuses on fun and learning, as well as working the mind and body. But the biggest reward of FITS is that adults and kids can find common ground outside of the classroom.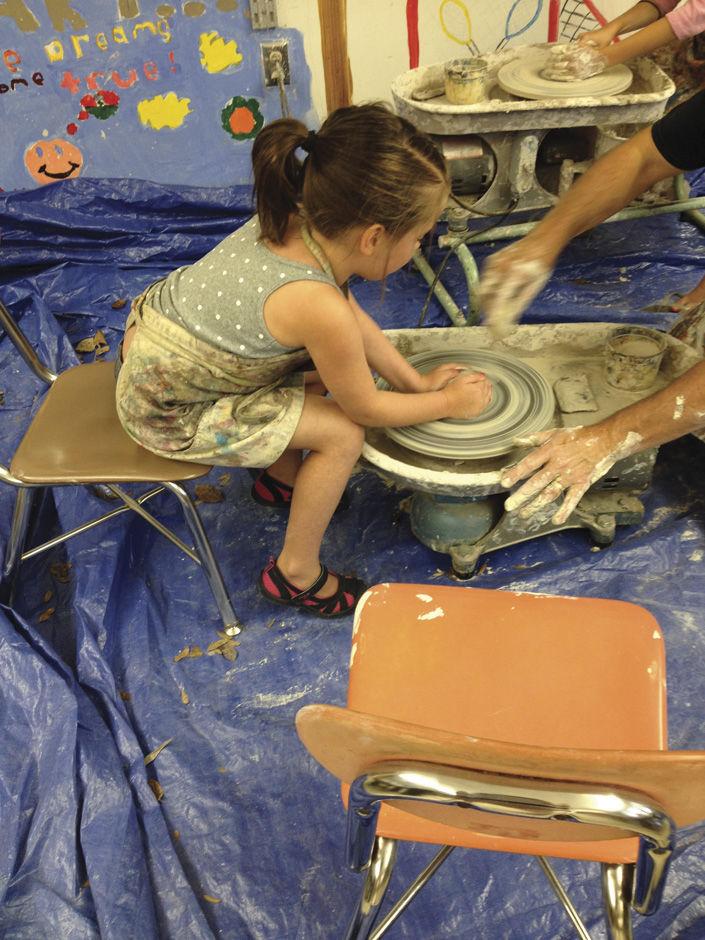 "It is nice to see students acting like kids and just being themselves," Snyder says. "It is also nice to have those relationships when they are back to student mode."
"I also believe the connection with students and seeing us in a different arena is the reward,'' Mandara says. "Often during the school year, a student may bring up FITS and something they did or remember.''
Before the eighth season kicked off in June, the two founders talked about some of the activities FITS has to offer.
"We have incorporated Plus Five Fitness for some of our daily activities,'' Snyder says. "Physically we strive to always keep the kids moving, especially in the afternoons. We swim almost daily. We play various pickup games like soccer, Ultimate Frisbee, tennis, kickball and basketball. 
"We also play tag games, dodge ball-style games and team games like 'Capture the Flag.'  We have various team-style challenges we do to promote team building, communication and physical fitness. Our field trips include water parks, bowling and ice skating. This year we also have Rochester Foam Dart League coming in for two Fridays to run games with the kids.''
Mandara is quick to point out that non-physical games at the camp can be beneficial, as well.
"The indoor games contribute to a healthy mind,'' he says. "We play board games, and throughout the year we will hold Connect 4, Trouble and Nok Hockey tournaments. We often challenge kids to games. If they can beat Jared or myself, they can win small prizes — mostly a Freezy Pop, which is a good motivator during the hot summer months.
Card games like Kings in the Corner are also popular.
"These types of games focus on the individual and the value of learning how to win and lose gracefully," Mandara says. "They know and learn that if they lost today, there may be a tournament tomorrow so as not to get upset.''
Students from first through seventh grades may participate all day, every day, or come half days and customize a schedule for participation. A typical day could see between 20 and 40 students and six adults.
Scholarships to attend FITS are available courtesy of the ER Alumni Foundation. Free breakfast and lunches are provided for six of the weeks thanks to the USDA's Summer Meal Program.
Both founders remember summer camps as kids, which served as inspiration for FITS.
 "I worked recreation growing up and wanted to incorporate that into a school-based program,'' Snyder says.
Mandara also worked at summer camps in his youth.
"But what separates us is the variety of activities and the willingness to think out of the box," he says. "Each year we try something different or improve on a previous activity. This keeps the program fresh and exciting.''
Snyder credits Mandara for some top-notch arts and crafts activities.
"He has a knack for getting students to create some really cool things such as ceramic frames, bowls, cups, basket weaving, painting, textile arts and much more,'' Snyder says.
Snyder can tell the success of a day by how tired the campers are when it's time to get in the car to leave.
"If the kids go home and are not exhausted, we aren't doing our jobs,'' he says.