With four thriving campuses the Community College of Allegheny County is making a push toward becoming a more cohesive unit. On Jan. 8 the college held an event for faculty and staff to discuss assessment and its impact on the One College Model.
"This was the first time that we, as a college, spent an entire day on system-wide improvement," says Dr. Michael Self, vice president of assessment and institutional effectiveness at CCAC. "We took a hard look at how we can evaluate and make improvements on a more global scale."
In the past, groups have met either remotely or online to talk about various programs and how they could be improved. This time, the college leadership thought it was important for all stakeholders to be in the room together to talk about core roles and how well those functions are working across the board.
"There was a lot of introspection and reflection that day," Self says. "We had to ask ourselves 'How do we take the next step to improve things?'"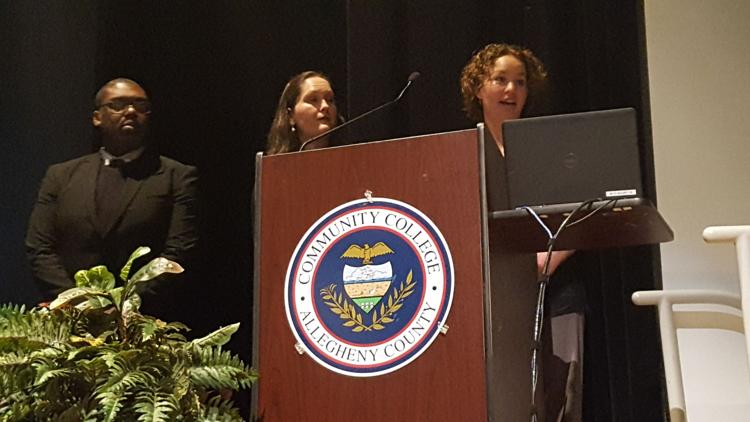 The All Assessment Day program only lasted a few hours, but Self says he believes it was quite successful. Since the close of that meeting, Self says he has heard numerous CCAC faculty and staff members say they could have accomplished more if the full day was dedicated to the goal. Self described the day as one full of energy and hope for a strong future at CCAC. Bringing people together for this event was significant. He says the group effort demonstrated a singular mindset, and being on the same page as to what improvements need to be made ensures that everyone is "rowing the boat the same way," he says.
"People are now feeling like more of a part of the evolution of the college's future," he says. "People believe that being able to voice an opinion and being a part of the planning for the next steps was big. Being together was a key, people see we're in this together."
Throughout the course of the morning program, faculty, staff and administrative teams worked together to streamline processes, define common objectives and develop consistent terminology that could be used throughout the college. By streamlining certain processes, such as registration, school officials believe it will ultimately enhance the student experience.
Self says the faculty are keenly aware of what does and does not work in their classes, and for their programs overall, and are more than capable of making any necessary changes to their curriculums. A significant portion of All Assessment Day was spent discussing ways to strengthen the college's ability to ensure that graduates are not only proficient in the disciplines that they pursued a degree in, but also that they successfully attained a general body of knowledge that the college affirms with all of its graduates.
"On the faculty side, we want to make sure that we're addressing those areas where students are not meeting proficiency," Self says. "We're looking at implementing innovations that will have an impact on all of our students."
A key emphasis moving forward is to support faculty innovation and excellence. Self says that faculty will be provided with more resources and opportunities to implement strategies and protocols that they believe will be beneficial to their programs. Faculty should be empowered to utilize the expertise that they possess.
Since the close of All Assessment Day the staff have been sifting through the data collected to determine a consensus of what improvements are needed and how to prioritize them. Once that data is gathered and analyzed Self says it will be shared "globally" across the entire college.
"We were all committed because we really understood the far-reaching impact it could and did have," Self says.
Although the one-day event was successful, Self says he believes the school will look to implement this college-wide exercise on an annual basis.
"We've put the culture in place and we're moving in the right direction," he says.