It's a judge's job to issue the ruling, but former lawyer Elizabeth Szabo had no problem reaching a verdict on the state of smoothies in the city of Pittsburgh.
"I was driving around a few years ago looking for a smoothie when I realized they really didn't have anything like that here," Szabo says. "That little light bulb went off in my head and I thought, 'The smoothie market is an untapped market.'"
Szabo always wanted to operate her own business, and decided to put her law career on hold to explore opening a smoothie shop.  But she didn't want to open just any smoothie business, she wanted to open the best.
"When I was thinking about doing this I thought of Smoothie King because they are the best," Szabo says. "They offer something for everyone, and I really believed there was the demand here in Pittsburgh."
Szabo signed a three-store deal with the Louisiana-based company in 2015. Smoothie King has more than 850 locations, including many in the southern U.S. but had none in the Pittsburgh area. Szabo opened her first store, a drive-through location in Bridgeville, in 2016. A few months later she opened another Smoothie King in the southwestern Pennsylvania town of Wexford. She is currently narrowing down locations for her third shop.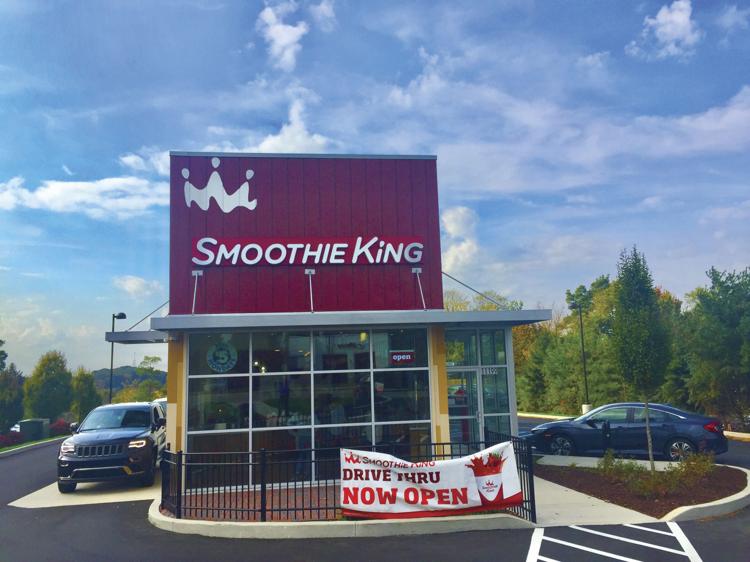 Szabo's inkling that the blended fruit-based drinks would be a hit in the Steel City appears to be valid.
"We have a lot of guests we see every day or every week," Szabo says. "We've even had guests that come from over an hour away. They'll get one smoothie for here and another to take home and put in the freezer."
Szabo believes Smoothie King delivering on its "Smoothies with a Purpose" motto is what draws repeat customers and eager first-timers. The menu features four blends: fitness, slim, wellness and take a break. Every smoothie is created for a specific reason.
Smoothies that fall under the fitness category are loaded with protein and designed to help the drinker get toned, build muscle and quickly recover from workouts. One of the most popular fitness blend smoothies is Gladiator Chocolate.
The slim blend features smoothies for those looking to lose weight, burn fat or simply reduce their daily caloric intake. Many of these smoothies contain Stevia-based sweetener or nonfat Greek yogurt and milk. Smoothies on the slim blend menu do not exceed 240 calories in a 20-ounce serving.
Several blends from the wellness category use only vegan ingredients, and the smoothies can help strengthen one's immunity and improve overall well-being, Szabo says.
Those looking to "reward themselves" or simply enjoy the traditional smoothie will want to order from the take a break section. This is the where customers can find traditional smoothies like strawberry-banana or pineapple.
Every smoothie is created using real fruit, fruit juices, nuts or vegetables. Smoothie King does not use high fructose corn syrup or trans fats in its drinks, Szabo notes.
"No one needs to question what we are putting in our smoothies," she says. "We only use fresh, high-quality ingredients."
Smoothie King is also cognizant of food allergies and avoids potential cross-contamination by using designated blender bowls for foods to which people are commonly allergic. Every smoothie is also gluten-free.
"One of my happiest moments is when a customer comes up to me and tells me they never thought they could have [a certain smoothie] because of their food allergies, but then they see the ingredients and they are able to order it," Szabo says. "We have a great staff that is very educated about food allergies and since we use special blender bowls you don't have to worry about coming in contact with a particular food you are allergic to."  
Szabo's shop boasts high-end smoothies, which is why she admits the drinks carry a high-end price tag. She is quick to say, though, that customers are getting quality for their money.
"Our smoothies may cost $5 or $6, but keep in mind this is not something that you pull a lever and it plops out of a machine," she says. "These are made-to-order smoothies."
Not only are they made-to-order, they can also serve as meal replacements because they contain a balance of nutrients to power through the day.
"Our smoothies are chock-full of fruits and veggies and provide a healthy alternative to greasy fast food," Szabo says. "Plus, the smoothies really do fill you up."
Szabo's commitment to the company is obvious considering she gave up a career in law to manage three Smoothie Kings. It is a move she does not regret.
"This is my life," she says. "I'm very passionate about it."