Let's start with a story:
A man goes to work at a steel mill. An explosion throws the man into a steel wall, setting him on fire. He suffers serious third-degree burns on three-quarters of his body. He then goes through years of rehabilitation, and endures a lifetime of bad memories and nightmares.
Several years after the horrific accident, in which he could have died or never walked again, this man competes in the Boston Marathon. And he does pretty well.
Does that sound like it could be a script for a movie? It's not. It's real life, and the story goes on.
Unexpected Turns
Sharpsville, Pennsylvania's Carmen Aiello II lived this. On November 24, 1991, Aiello was a 20-year-old who had started in the store room at the Sharon Steel Corporation and quickly advanced up the ladder to third-helper on a 110-foot tall electrical furnace nicknamed "Judy."
When the furnace exploded at approximately 4 p.m. one day, Judy was OK. But Aiello wasn't.
After the explosion, he faced a life-or-death situation.
"I got thrown and hit a steel wall with my head and landed on the floor," he recalls. "It happened in less than a second. When I realized where I was and what was going on, I stood up and started running. I was on fire, and one of the other workers tackled me on the ground.''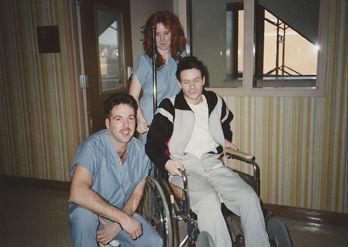 Aiello was rushed via helicopter from a local hospital, where he had both of his legs split open to relieve the pressure, to West Penn Hospital in Pittsburgh. There, he spent the next couple of months going through seven surgeries and missing Thanksgiving, Christmas and New Year's celebrations.
"It felt like an eternity," he says.
Fast forward and Aiello is currently the vice president of marketing for Visit Mercer County, and his biggest mechanical problem now is when the air conditioner isn't functioning. More than a quarter century after the accident, he was asked what his life would be like if it didn't happen.
"It would probably be a lot different,'' Aiello says. "I don't know how I would have ended up, but I don't think I would have been as structured with my life. This might have made me work a little harder to do things that I wanted to do.
"I went to (Penn State) for four years and got a degree in marketing and I probably wouldn't have done that if it wasn't for the accident. I probably just would have continued with that type of job my whole life. So I took the four years out of my life and it took off pretty big.''
Keep Moving
Aiello was home in January after the accident, and that's when he focused on getting better. His father, also named Carmen, helped push him.
"He said 'We're not going to take you back to the hospital as a cripple in a wheelchair — we're going to work,'" Aiello says of his father. "There are people with burn injuries who never really recover. They don't move their hands. They don't move their legs. They never pushed themselves at the beginning when you really need to so you can get that movement back. We worked on that so that wouldn't happen."
Once his life got back to relative normalcy, Aiello started running 5K and 10K races, and when he tried marathons, his times were quickening to the point of nearing Boston Marathon qualifying times for his age group. After one year missing out by a couple of seconds, Aiello finally qualified for the 2015 race — he did not disappoint. He ran it in 2 hours and 54 minutes, good for 1,432nd overall out of 30,251 entrants.
He has not run in a marathon since, but he plans on training for a future marathon such as those in Chicago or New York.
Hope Continues
Aiello has returned to visit West Penn Hospital and is on the Burn Concern support group board. While he has talked to survivors on the board about his story, his next chapter might be visiting and talking with burn patients and their families.
He doesn't view his life as being cursed, even though he has done a lot of suffering.
"I would say I was very unlucky that day," he says. "I wouldn't say I was cursed. But that day was unfortunate. It's on my mind, but it doesn't usually have a negative effect."