It's that time of year again, where football is at the center of many a weekend party. Foods like chips, dip, sliders, taquitos and mozzarella sticks are standard fare, but is there a way to make Super Bowl Sunday a little more health conscious without taking away any of the fun of these time-honored treats? We say, absolutely yes. Check out three excellent swaps for your game day feast.
Keto jalapeño poppers
Fried jalapeño poppers are cheesy, zesty and popular at any Super Bowl Sunday spread. If you want an alternative with the same amount of flavor and kick, this recipe from Wholesome Yum is keto-friendly, low-carb and naturally gluten-free. Made with just seven ingredients (including bacon!), they're a healthier version of their breaded, deep-fried counterparts.
Ingredients:
6 medium Jalapeno, sliced lengthwise and seeded
1/4 cup cheddar cheese, shredded
3 oz plain cream cheese, softened
1/4 cup green onions, chopped
2 cloves garlic, crushed or minced
1 Tbsp fresh cilantro, minced
1/4 cup bacon bits, pre-cooked
Preheat the oven to 400 degrees F. Line a baking sheet with parchment paper or foil.
In a small bowl, stir/mash together the cream cheese, shredded cheddar cheese, green onions, cilantro and garlic. (Heat a bit if the cream cheese is too hard.) Fill the jalapeno halves with the mixture. Place onto the lined baking sheet.
Top each jalapeno popper with about a teaspoon of bacon bits, pressing lightly into the cream cheese filling. Bake about 15 minutes, until the peppers are soft and the bacon on top is crispy.
Recipe adapted from Wholesome Yum blog.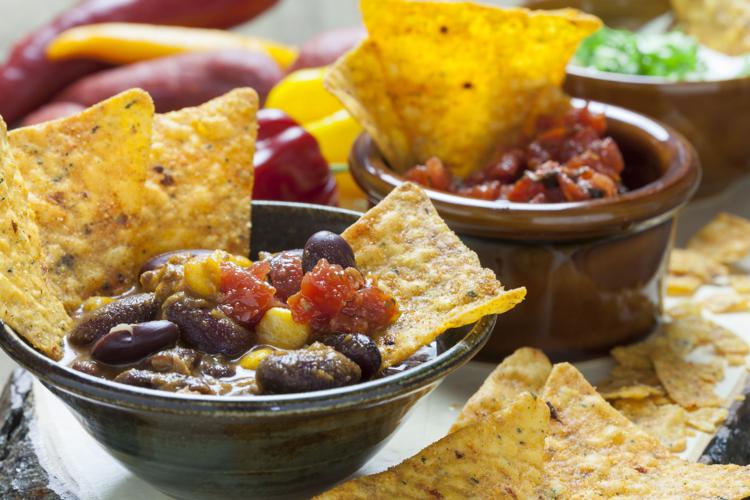 A cleaner bean dip
Refried beans and melted cheese are delicious together, but this creamy-style bean dip is usually loaded with calories. Instead, try this recipe from Garlic and Zest. With fiber and protein, it's a heart-healthy snack suitable with your favorite tortilla chips.
Ingredients:
1/2 red bell pepper, diced
1/2 yellow bell pepper, diced
1 jalapeño, seeded and minced
5 cloves garlic, minced
1 bunch scallions, thinly sliced on a bias
2 15 oz. cans black beans, rinsed and drained
1 10 oz. can original "Rotel" tomatoes with green chili drained
1/2 small red onion, finely diced
1 cup cilantro, chopped
1 lime, zested and juiced
1/2 teaspoon kosher salt
1/4 teaspoon black pepper
In a large bowl combine the bell peppers, jalapeño, garlic, beans, scallions, Rotel tomatoes, lime zest and juice, red onion, cilantro, salt and pepper. Toss to combine.
Serve with tortilla chips.
Recipe adapted from Garlic and Zest blog.
Chicken-less buffalo "wings"
Buffalo wings are a favorite at many game day parties, but if you're trying to eat a little healthier, swap your traditional wings for this vegan (yes, vegan!) recipe from Hot for Food. Hunks of cauliflower are dipped in seasoned batter then baked to a crisp and finished with hot sauce.
Ingredients:
1 head of cauliflower (approx. 4-5 cups of florets)
1/2 cup unsweetened non-dairy milk
1/2 cup water
3/4 cup all-purpose flour
2 tsp garlic powder
2 tsp onion powder
1 tsp cumin
1 tsp of paprika
1/4 tsp sea salt
1/4 tsp ground pepper
1 tbsp Earth Balance buttery spread
1 C Frank's Red Hot sauce
Line baking sheet(s) with parchment paper and preheat your oven to 450 F.
Wash and cut cauliflower head into bite sized pieces/florets. Mix all the ingredients minus the Earth Balance and Frank's Red Hot sauce, this is added separately. The batter shouldn't be so thick that it doesn't drip, but also not so thin that it doesn't coat or stick to the cauliflower.
Dip each floret into the mixture and coat evenly. Tap off the excess on the side of the bowl. Lay florets in an even layer on the parchment lined baking sheet without overcrowding, then bake for 25 minutes until golden brown, flipping the florets over half way through to get all sides golden brown and crispy.
While the cauliflower is baking get your wing sauce ready. In a small saucepan on low heat melt earth balance and mix in hot sauce. Remove from the heat just as it starts to melt. Stir together and set aside.
Once the cauliflower is done with its first bake in the batter, remove them and put all the baked florets into a mixing bowl with the wing sauce and toss to coat evenly, or you can do this in smaller batches. Then spread all the florets in wing sauce out onto the same baking sheet. Bake in the oven for another 25 minutes, flipping the florets over half way through.
Recipe adapted from Hot for Food blog.