As you shake off the winter doldrums, springtime ushers in a uniquely fresh vibe. It feels colorful and energetic. People, eager to end cabin fever, bring a renewed sense of enthusiasm to their activities. The Sunrise School and Mon Valley School of Allegheny County, Pennsylvania, are harnessing springtime vigor to benefit their students.
Schools for exceptional children
The Sunrise School and Mon Valley School, along with The Pathfinder School, are three educational facilities that are part of the Allegheny Intermediate Unit, which operates as a liaison between the Pennsylvania Department of Education and school districts in Allegheny County.
These schools service students ages 5-21 with significant, complex special needs — students with academic, social and/or intellectual deficits — that cannot be met by their own district. The schools have a shared mission to provide an enriching, challenging and inviting environment to their students, thus facilitating the development of more productive skills to transition students from school to the community.
It takes resources to fulfill such a complex mission. Numerous specialists, such as speech pathologists and occupational and physical therapists are on staff to meet the needs of students. Teachers and staff have expertise in autism and developmental disabilities. There is also a vocational component to prepare students for life after school, which includes internships and volunteer opportunities with local businesses.
"We have a lot of wonderful partnerships in the community," says Lucy McDonough, principal of The Sunrise School.
Fundraising
The goal is to help students be successful in the least restrictive environment possible. Although Sunrise, Mon Valley and Pathfinder are public schools, they depend on fundraisers to supplement the resources they need to fulfill their mission and goal.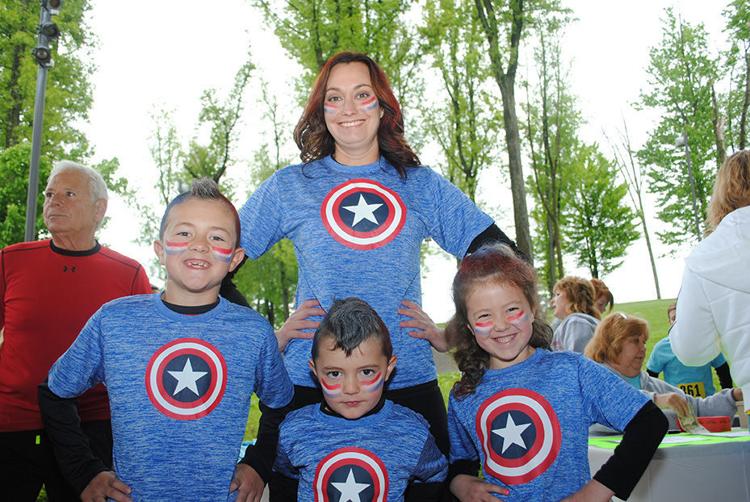 The 3rd annual Sunrise Superhero 5K
Three years ago, Sunrise School launched the Superhero 5K and one-mile fun run. The 5K is a timed, official race that goes through the community park.
"Our kids have to overcome such incredible challenges and barriers," McDonough says. "They are our heroes."
In the past, the school has hosted spaghetti dinners. But as a recognized Healthy School by Highmark Health, Penn State PRO Wellness and Action for Health Kids, Sunrise felt their fundraiser should align with their healthy ways.
Scheduled for May 20th, 2018, the race day is a culmination of effort between students, staff and parents. Solicited donations and sponsorships support the race and individual runners. A basket raffle supplements the proceeds. Kids make signs, prepare race packets and organize T-shirts. Awards are given to age brackets, overall winners and best costumes.
The 2017 race had nearly 200 participants and raised approximately $10,000. This year, McDonough is hoping for more, but the Superhero 5K has already proven to be much more successful than the spaghetti dinners.
You can sign up for the Sunrise Superhero 5K at RunSignup.com.
Mon Valley Dye Hard Run
Like Sunrise, Mon Valley gave their big annual fundraiser a makeover to align with the school's emphasis on fitness. In prior years, a hosted craft show took the spotlight. This year it's the second annual Mon Valley Dye Hard Run and fun run for younger kids.
Stephanie Paolucci, acting principal of Mon Valley School describes the run as a cross between a color run and challenging obstacle course. With a 40-acre nature trail on the school property, Mon Valley is uniquely positioned to offer such a thrilling combination.
"We wanted a color run but also incorporate the nature trail," Paolucci says. "It's a pretty tough course with mud, trails and roots."
During the three miles, participants get sprayed with colors. And this is after a colossal color toss that marks the beginning of the race. Paolucci says most color runs do the color celebration at the end, but they decided on starting with it because everyone was together.
Students play key roles in preparations. Two vocational classes, Buildings and Grounds along with Industrial Production, handle course preparations. Students also hand-make the participant "medals" of wooden disks threaded with ribbon. The art class designs a stamp and stamps each medal. Each year gets a unique design.
Kids, parents and community members are welcome to participate. Sponsorships, raffle baskets and food donations help supplement earnings. The 2018 Mon Valley Dye Hard Run and kid's fun run is scheduled for April 21st. You can sign up for the race on
Runsignup.com. Registration for the 5K is $25 and the fun run is $10.
Enrichment
All the proceeds from the events at their respective schools are used to directly benefit the students. Students' needs are diverse: activities, assemblies, field trips, prom pictures, prom dresses, sensory room items, exercise equipment, etc.
"Everything goes directly to the students," Paolucci says. "It's good for students, staff, and the community."